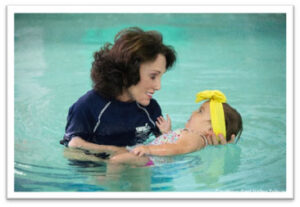 Driven by a passion to make a difference after the tragic drowning deaths of two of her friend's children, Lana Whitehead vowed to dedicate her life to water safety and drowning prevention. She began experimenting with giving her infant son swim lessons. The YMCA saw this effort and asked her to develop baby swim classes, which became very popular. Lana found that the experience of being with a baby in the water was enjoyable for both the parent and the child and that it was a wonderful bonding experience. She discovered there are many emotional and physical and benefits when a child learns to swim. At this time, children usually did not start swim lessons until they were about five years of age. It was then that her inner drive to save lives, pioneer new swim techniques and to develop the finest swim program possible, including classes for babies, began.
SWIMkids USA is an acclaimed swim school which also offers gymnastics all under one roof. It is a family-owned business and staff treats everyone like family. It provides a captivating environment for children to have fun while they build their water safety skills and enjoyment of swimming which will last a lifetime. Through an atmosphere of loving respect and guidance, children build confidence and self-worth. They are encouraged and seen as successful no matter what level of skill they have. Having excellent instructors is a very important part of the business. The teachers are gentle, patient professionals who focus on each child's needs and build confidence through repeated success. It is the only swim school in Arizona where teachers are certified in the specialized SWIMkids method, CPR, First Aid and Lifeguarding as well as in Swim Whisperer techniques, which guide them to be successful with children who have special needs.
Lana Whitehead has taught workshops and has given presentations about her swim safety methods all over the world. She also teaches about the connection between movement, learning and brain development. She has written 5 books about this, which have been purchased by people all over the globe. Numerous instructors who purchased these books have then traveled to the USA to observe Lana's methods. She has trained hundreds of swim and gym instructors in principles of education, swim skills, safety management and customer service protocol. Many have become managers and directors in the swim business industry after training with her. Lana holds degrees in exercise physiology and special education and is a member of the American College of Sports Medicine. Her involvement in the world of swimming as an author, educator and speaker have taken her around the world including to the U.S. Olympic Training Center, World Baby Congress, National Drowning Prevention Alliance and she was a featured speaker at the 2012 International Aquatic Conference. She also spoke at Congresso Brasileiro de Natacao Infantil, Singapore WABC Congress 2010, Vancouver Aquatic Baby and Children Conference 2009. She was also a member of the Sports Medicine Delegation to China and spoke at the Beijing Sports University. She has given presentations to Swim Australia, Water Safety New Zealand, US Swim School Association, Clinica Acuatica International, Women on Water, International Adapted Aquatics and Arizona Public Health Association.
Lana is the national spokesperson for and co-founder of Water SMART Babies, an innovative program offered to pediatricians across the USA as the latest tool in drowning prevention. The CBS Early Show and TODAY show came to Arizona to interview her about this program. Water SMART Babies has doctors becoming actively involved in talking to a parent about drowning prevention and the importance of swim lessons for babies. Parents are given a brochure that also stresses the need for pool barriers and CPR knowledge. Lana is also the national voice of expertise about swim lessons and drowning prevention and has been interviewed for shows like That's Incredible and in major publications including 
Parents, Parenting, Baby Talk
 and 
Pregnancy and Newborn
 magazines. She has done numerous media interviews for Phoenix area media outlets including 
Good Morning Arizona
, FOX morning show and The Arizona Republic newspaper and Mesa Tribune. She is the main local media resource in Arizona for all topics that have to do with early swim lessons, swimming and brain development.
Blake's Miracle Foundation was formed and supported an annual charity swim-a-thon event held at SWIMkids USA after the Whitehead family lost their precious family member, Blake, to leukemia just before his second birthday. In his memory, money earned by the pledges of little swimmers in the SWIMkid-A-Thon went music therapy programs, first at Banner's Cardon Children's Hospital and then to Phoenix Children's Hospital. Music therapy is often not covered by insurance. When Blake was in the hospital, one of his favorite times was when he was treated to music therapy. Hundreds of thousands of dollars have been donated for music therapy and drowning prevention efforts because of the young swimmers at Blake's Miracle Festival.
PRESTIGIOUS AWARDS INCLUDE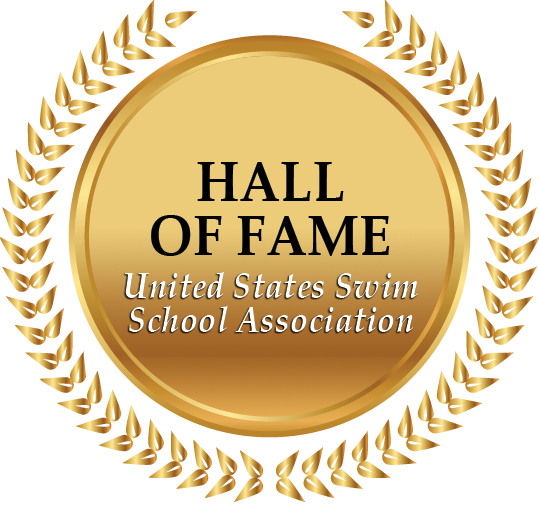 UNITED STATES SWIM SCHOOL ASSOCIATION'S HALL OF FAME
Lana Whitehead is the recipient of the 2012 United States Swim School Association's Hall of Fame award. This award recognizes those who have made exceptional contributions to the swim school profession and learn-to-swim industry.​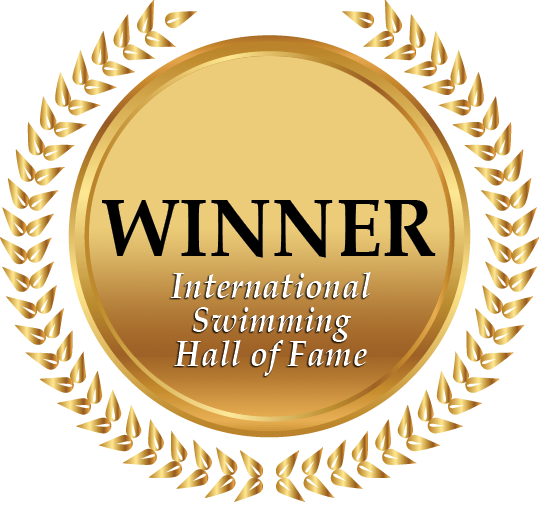 HAROLD MARTIN AWARD FOR WATER SAFETY AND INSTRUCTION
Lana Whitehead, was awarded the esteemed 2018 G. Harold Martin Award for water safety and instruction by the International Swimming Hall of Fame. The G. Harold Martin Award is presented to someone for their long and exceptional leadership, insight and dedication specifically to the water safety of children. The International Swimming Hall of Fame awards are presented annually to individuals for outstanding contributions to aquatics.
SPIRIT OF ENTERPRISE AWARD FOR EXCELLENCE IN ENTREPRENEURSHIP
Arizona State University's W.P. Carey School of Business highly regarded honor for being an entrepreneur, 2017. "This award shines the light on our mission which is to educate parents about water safety and teach even the youngest children lifesaving swim skills," said Lana Whitehead. "I am deeply honored to receive this award because this is a problem that is not going away."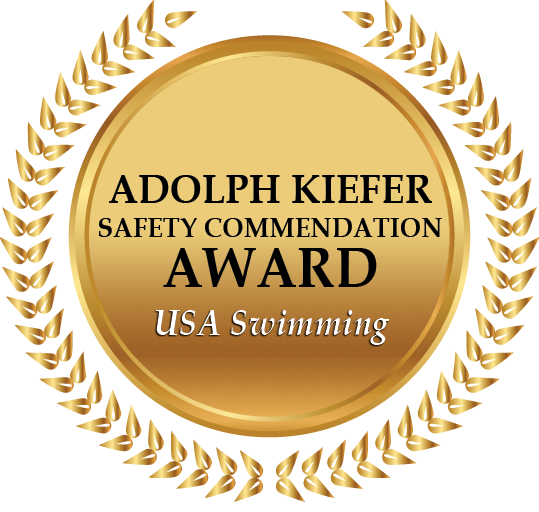 ADOLPH KIEFER SAFETY COMMENDATION AWARD
It was an incredible honor when Lana received this national award in 2015 bestowed by USA Swimming in honor of Adolph Kiefer. Kiefer was an Olympic Swimmer who was a tireless advocate for promoting swimming, a pioneer in the industry and an important part of advancing swimming as a sport.
COMMUNITY OUTREACH HEALTH CARE HERO
Phoenix Business Journal – 2014