PROVIDING WATER-SAFETY INSTRUCTION IN A CARING, FUN ENVIRONMENT IS OUR TOP PRIORITY.
Join us for weekly 30 – 60-minute swim lessons! Each child will be individually honored with an Olympic-style ceremony after they advance from each level.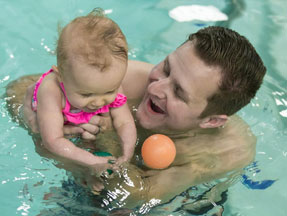 WATER SMART INFANTS
Encourages love of the water and bonding with parent. Introduction to floating on the back.


30Min/Week | FREE
WATER SMART BABIES
Water safety skills are introduced with fun activities and songs. The parent learns how to teach the child basic survival skills.

30 Min/Week | $95/Mo
BEGINNING SURVIVAL 1/2
Students learn to become comfortable in the water, learning to dive in, surface, roll to a float, and get to the side or steps.

30 Min/Week | $95/Mo
INTERMEDIATE SURVIVAL 3/4
Children gain independence and move ahead into an advanced sequence of swimming and rotating to the back over the width of the pool, fully clothed to safety.


30Min/Week | $95/Mo
ADVANCED SURVIVAL 5/6
This class focuses on freestyle and side breathing skills as well as basic rotation. Each student is taught intermediate freestyle skills which includes bilateral breathing and rotation on their own.

30 Min/Week | $95/Mo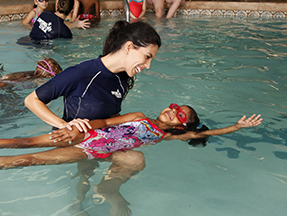 SILVER SWIM 1/2
Once the student has mastered intermediate freestyle and breathing skills, they move to advanced freestyle, breathing and propulsion. Focus on freestyle and backstroke, alignment, breathing techniques and propulsion.

30 Min/Week | $95/Mo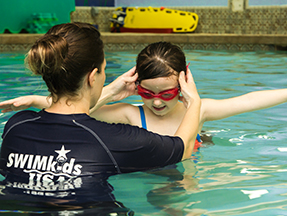 GOLD SWIM
This class will focus on butterfly mastery, while continuing freestyle and backstroke. Your swimmer will also master a legal breaststroke kick. Last step before swim teams and it's challenging and fun!


30Min/Week | $95/Mo
SWIMMER
This is a great option for the older child who is inexperienced or uncomfortable in the water. It is an introduction to the basic swimming and water safety skills.

30 Min/Week | $95/Mo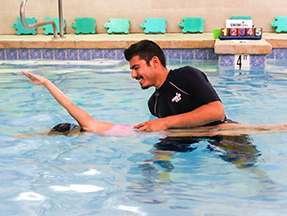 TEAM PREP 1
Beginning freestyle and backstroke class for school-aged children. Students will focus on breathing, balance and propulsion with kicking and arm strokes. Great foundation for swim team.

30 Min/Week | $95/Mo
TEAM PREP 2
This class works on butterfly as a preparation for moving on to swim teams.


30Min/Week | $95/Mo
SWIM TEAM
Technique building for all four strokes, freestyle, backstroke, butterfly and breaststroke. Our indoor, recreational swim team practices proper technique, dives, turns and racing strategies needed for pre-competitive swim meets. It focuses also on team building and a love of the sport of swimming.
COMPETITIVE SWIM TEAM
This is held in a heated, outdoor, Olympic-sized pool. It is for a swimmer who wants to perfect advanced techniques and there are opportunities to compete.
LEARN TO SWIM AT OUR YEAR-ROUND FACILITY IN MESA, ARIZONA
We offer swimming lessons for the entire Phoenix area including Chandler, Ahwatukee, Gilbert, Mesa, Tempe, Queen Creek, Maricopa, Scottsdale, East Valley, Glendale and more!
Our swim-float-swim sequence is the standard in water safety training that many have tried to replicate: because it works! Thousands of children have been saved by this technique plus every individual who has been trained by this method is safer in the water. SWIMkids USA swimming instructors equip their swim school students with an immediate method of survival in an emergency situation by teaching them to roll on their backs where they can breathe and rest for an indefinite amount of time. After a short rest period the child is then taught to roll back onto his/her stomach and continue to swim to the safety of the wall or steps.
The swimming lessons are a step-by-step plan of development wherein one skill is built upon another. The skills are practiced over and over so the child learns each skill to the automatic level. Upon graduation from each level, we award the student a medal in a mini-Olympic graduation ceremony in front of his parents and peers. At SWIMkids USA, we build self-esteem and confidence through repeated success. In addition to our children swimming classes, we also offer baby swim lessons and special needs swimming classes.
YOUR SWIMKIDS USA EXPERIENCE INCLUDES:
Classes are 30 minutes once a week. We also offer free practice opportunities in our practice pool and free make-up lessons. 
For available swim class times and schedules or to schedule a free trial class, please call (480) 820-9109.
WOMEN ONLY SWIM CLASS
Women-only. No men allowed near pool area. A time for women to come and swim, work on their technique, get comfortable being in the water and overcome their fears and benefit from the wonderful form of exercise that swimming provides.
Fri 12:30 – 1:00 p.m.
$47/MONTH