GYMNASTICS LESSONS - GYMKIDS USA!
Build a foundation of balance, strength, coordination and flexibility. Our gymnastics lessons start with stretching, strengthening exercises, and tumbling skills and advance through to higher skill levels. Students practice on the balance beam, rings, parallel bars, uneven bars, floor exercise mats, and our huge trampoline; the Tumbl Trak.
Our tumbling and gymnastics classes are 30-45 minutes long with free make-up lessons.
TUMBLE BEARS
Bounce, bond and balance with your toddler, moving to fun music while learning listening skills.



Class Size: 6 | $47/Mo
TUMBLE 1
Introduction to tumbling through obstacle courses, hanging upside down and much more! Children will also work on body awareness in a structured class setting.

Class Size: 4 | $95/Mo
TUMBLE 2
Tumblers begin working on independent tumbling skills. They will continue to develop coordination and confidence while having fun with their classmates!


Class Size: 4 | $95/Mo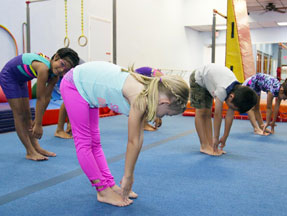 GYMKIDS USA BRONZE
We emphasize building a strong foundation for gymnastics during this class. Children learn how to work hard while learning beginning handstands and cartwheels.

Class Size: 5 | $95/Mo
GYMKIDS USA SILVER
Gymnasts will gain a respect for the sport through advanced tumbling and teamwork skills. Athletes have fun with challenges and each other!


Class Size: 5 | $95/Mo
GYMKIDS USA GOLD
Our advanced level gold gymnasts work on conditioning, back handsprings, bar work and furthering their accomplishments through determination!


Class Size: 5 | $95/Mo